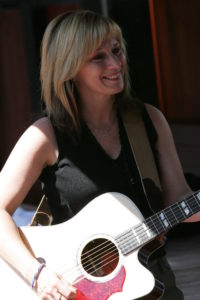 S andy Lee Casey
Grew up in the Boston area and now lives in Southern California's Temecula Valley Wine Country. She has been singing and performing for over 30 years in various bands and as a solo artist across the USA.
Acoustic Too is her latest project which takes her back to her roots and the basics of harmony and rhythm which she loves so much.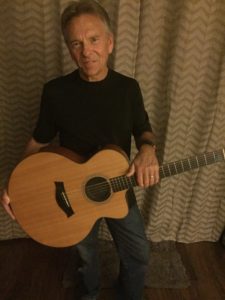 Grant Erbe
Having grown up in the San Diego area, Grant was part of the 70's local music scene, often traveling to LA to play music at the Whiskey a Go-Go and the Trubador night clubs on Sunset Strip.
He was also part of the opening act for ELO and Coco Montoya.
More about Sandy Lee Casey ...
In the 80's Sandy had the privileged and luck to be brought in studio for background vocals during the Metalica "Master of Puppets" sessions in 1985 at Amigo Studios.
She was critically acclaimed as a featured artist on the Rooster Teeth Red vs. Blue and RWBY animated soundtrack projects.
Her trademark rich vocals deliver the dynamics, depth and raw emotion that fans and followers love and have come to expect.
More about Grant Erbe ...
During the 90's, he played the country music scene in which Grant's band (Tumblin Dice) partnered with Willie Nelson to become, Willies Biodiesel Boys. They performed music and promoted his Biodiesel program to help American farmers.
Since then, he's been a "hired gun", playing bass and singing up and down California as well as touring the Philippines to help a local SoCal worship artist.
Currently, Grant plays his variety of acoustic guitars at various venues, from restaurants, wineries, resorts, casinos and private events. Playing everything from classic rock, country, oldies plus music from current artists.
My husband & I and all of our guests really enjoyed Sandy's performance. She had Grant come play with her, and they were perfect together. We found ourselves singing along to most of the songs they played which made the night really fun! They arrived on time and were very easy going. I would definitely book them again! Several of my guests also asked for their contact info for their own events!
Let's Play!
We love to entertain and are available for your next event or private party
Acoustic Too Portfolio of Songs and Artists
3 AM
A Horse With No Name
Against The Wind
Aimee
Allison
America
Angel From Montgomery
Big Yellow Taxi
Black Horse & Cherry Tree
The Boxer
California Dreaming
Cliche
Come To My Window
Country roads
Danny's Song
Desperado
Fields Of Gold
Free-Falling
Get Together
Good Riddance
Hallelujah
Hey There Delilah
I'm Like A Bird
I've Just Seen A Face
Jezebel
Leaving Las Vegas
Long Long Time
Love Has No Pride
Me And Bobby McGee
Mexico
The Needle and The Damage Done
Not The Doctor
Operator
Poor, Poor Pitiful Me
The River
Something
Something To Talk About
Stairway To Heaven
Strong Enough
Suddenly I See
Suite Judy Blues Eyes
Sunny Came Home
That's The Way I've Always Heard It Should Be
Thing Called Love
Too Long A Soldier
Torn
Tracks Of My Tears
Ventura Highway
We Just Disagree
What's Up
When Things Go Wrong
Wonderful Tonight
Wreck Of The Day
Wrecking Ball
Matchbox 20
America
Bob Seger
Pure Prairie League
Elvis Costello
Simon & Garfunkel
Joni Mitchell
Mamas and The Papas
Marti Jones
Melissa Ethridge
John Denver
Loggins and Messina
Linda Ronstadt
Sting
Tom Petty

The Youngbloods
Green Day
Jeff Buckley
Plain White T's
Nelly Furtado
The Beatles
Sade
Sheryl Crow
Kris Kristofferson
James Taylor
Neil Young
Alanis Morissette
Jim Croce
Warren Zevon
Bruce Springsteen
Beatles

Bonnie Raitt
Led Zeppelin
Sheryl Crow
KT Tunstall
Crosby, Stills, Nash & Young
Shawn Colvin & John Leventhal
Carly Simon
Pat Benatar
Natalie Imbruglia
Dave Mason
4 Non Blondes
Robin Lane
Eric Clapton
Anna Nalick
Miley Cyrus
Acoustic Too Performance Calendar
Facebook Feed
["error","The access token could not be decrypted"]
Twitter Feed

November 3, 2018 at 2:26pm
We're heading out to Borrego Springs in the desert tonight to play our first public gig at the beautiful La Casa del Zorro resort. This place is amazing!

Join us poolside tonight from 7-10pm and let's have some fun!